Entire home/apt

4 Guests

2 Bedrooms

4 Beds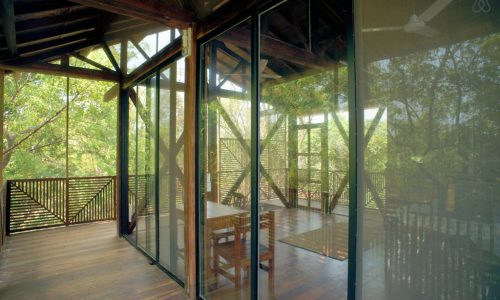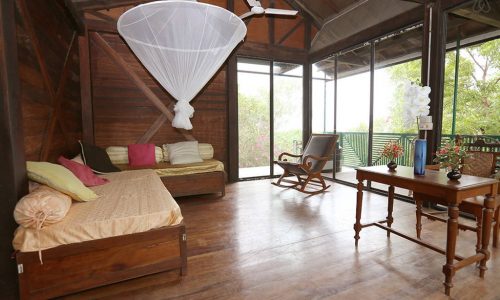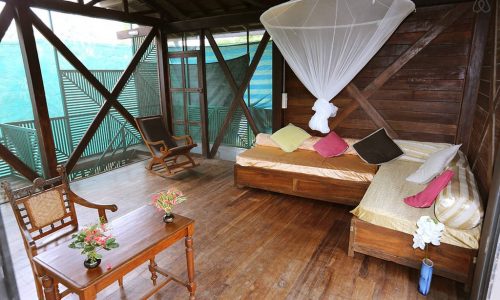 Wooden house on 2 levels with an upper sea view non ac living room that doubles up as a second bedroom and a lower ac bedroom with kitchenette bathroom and dining. You will have to share the house sometimes with birds/squirrels or wildlife which are an integral part of this almost tree house like in the midst of nature. If you are looking for a clinically clean or fearful of what nature has to offer then we have other rooms and houses on the same property.

Breakfast

Air conditioning

Family/kid friendly

Pool

Laundry for a charge

Kitchen

Essentials

Shampoo

Free parking on premises
It was a fantabolous experience for 4 of us to stay in wooden charlet, the swimming pool is an amazing add on.

Mornings are even more beautiful and admiring at this place. Sheril is a tremendous host, we all loved the hospitality, would love to come again some day
Listing description was accurate. Lovely resort near the sea. Clean beach and cleaner pool which was ever tempting. Rooms were spacious and well maintained. Ventilation was plenty & more and everywhere around was just greenery and the sea view from the 2nd floor.

Excellent for a relaxing holiday.
The chalet was a welcome break from the regular holiday hotel fare served up most times. The property was amazingly relaxing and full of natural goodness.

Most recommended place if your staying in auroville. Also, their restaurant Tanto has great food & service.
Overall my rating on any stay goes with how kids enjoyed and when they start saying that they don't want to go back home. This speaks it all. They really liked the stay. Most liked part of the stay was the play area and access to nearly a private beach.

Surely it would be on our next visit again.
An idyllic guest home by the sea, Tantos makes for a pleasant stay and offers you a mix of rustic and modern. The cottages here make for a cosy home stay and are done up in warm earthy tones.

I spent the first few days in the wooden chalet which was warm and offered a great view of the sea, and ample amount of space to move around.

The caretakers were warm and guided me through on enquiry. The food of course is great, but the portions are too big! The pool is ideally located and it almost feels like you're on the beach.

A late night swim under the starry sky, with sounds from the sea in the backdrop make a wonderful way to end your day.

Sheril and her team do good work here, and hope they keep it this way. Indira was a helpful caretaker the course of her absence and spent sometime guiding us through auroville as well.

Those looking for some quite time for themselves, yet want to venture out and explore, this would be an ideal spot to unwind at.
Nice quite place, with lot of sunlight and fresh air. It's a good place for yoga and meditation. Would love to come again.
We had a great time staying in the Wooden Chalet for a week. The house was great, the upper room all screens so you woke up to the trees and sun and the ocean in the background. The second floor had the kitchen and bathroom and another bed. Comfortable and quieter but I still liked sleeping upstairs. From the upper room you could sometimes hear the chanting from the nearby temple and street noises but we got used to that.

The pool is fantastic – clean and big – and that was wonderful. As was the Tanto restaurant (right there on the premises) that had great salads and pasta. It is the best restaurant in the area (plus the main Tanto restaurant in Auroville which also included fabulous pizzas). And the free breakfast was very generous and delicious.

Sheril was very nice and helpful and all the staff were lovely. Overall, highly recommended!

Check in time is 2 p.m. – 6 p.m.

Check out time is before 11 a.m.

1 Bathroom(s)

Property type: Bed & Breakfast

1 queen bed

2 single beds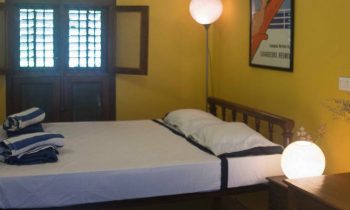 Family Room with Kitchenette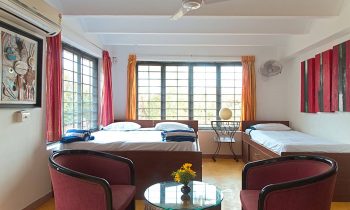 Triple Room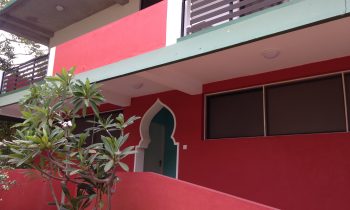 Non-AC Double Room with Bathtub